One of great opportunities along the byway is to enjoy spectacular views of the highest mountains from our roadways, and then experience the summits first hand by hiking to them. While perhaps no other view from below is as commanding as the one from Reservoir Road as it crosses the Ashokan Reservoir, the lofty vistas along the mountaintop trails come with the added satisfaction of putting in the effort to reach them.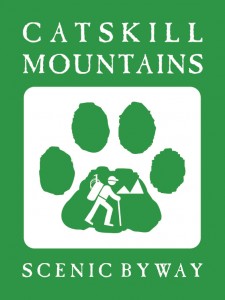 With this in mind, a hike to Peekamoose Mountain can easily incorporate the scenic drive across the reservoir, before or after the hike – or both. Traveling the byway from the east, turn left at Winchell Corner in Shokan (Reservoir Road) and in 1.5 miles enjoy the open view of reservoir and high peaks to the west. Continue down the hill, turn right onto 28A and, passing the parking area for the Ashokan Promenade in 1.9 miles, travel just over seven miles along the south side of the reservoir to Ulster Co. Rte 42 (Watson Hollow Road).
Turning left onto Ulster County Route 42, the scenic drive continues up the valley of the Bush Kill. Just past the Kanape Brook Trailhead (about 4.5 miles) the road ascends sharply entering the canyon-like pass that soon enters the Rondout Watershed and arrives at the Peekamoose Mountain Trailhead in just over 10 miles from Route 28A. As described on the hiking page, this is a rigorous yet rewarding hike with views that include the Ashokan Reservoir. Upon completion, you'll want to consider some options for dinner.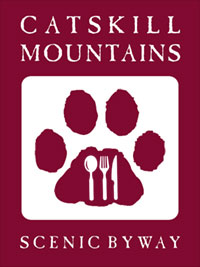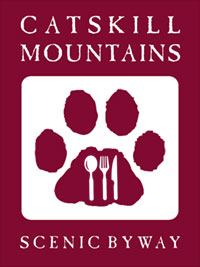 Returning to the junction of Ulster County 42 and Route 28A, a left turn brings you back to the byway in Boiceville in 3 miles. Turning right onto the byway (Rte. 28) in Boiceville, you will see the Boiceville Inn  on the left in less than a half-mile. A longtime local fixture, the Inn features a restaurant and bar and often has music on Saturday nights. Further east along the byway (4 miles from the Boiceville Inn) you will return to Shokan, passing Reservoir Road on the right. Just past the Mobil Station on the left is Village Pizza on the right, a newer establishment that has garnered some positive reviews.