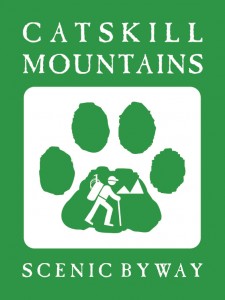 The Catskill Mountains are home to hundreds of miles of spectacular, well-marked hiking trails, from easy day loops for families to multi-day treks that will challenge the most ardent of backpackers. This map and its corresponding descriptions serve as an introduction to the numerous hiking opportunities in the Catskill Park on the greater Scenic Byway corridor.
Visitors are strongly encouraged to gather additional sources of information and should be fully prepared to undertake an outing in the Catskills with the necessary equipment and at a level that is commensurate with one's ability and experience — during any season. For further information, the Catskill Trails map set issued by New York-New Jersey Trail Conference is recommended or visit the State Department of Environmental Conservation's State Lands Interactive Mapping page. There are also many clubs and organizations in the area such the Catskill Region – NY/NJ Trail Conference, the Catskill 3500 Club, and the Catskill Mountain Club that can provide you invaluable information about hiking in the area.
Check out The Hiker Trash Husbands on Instagram and YouTube. Catskills playlist below. The Hiker Trash Husbands is an effort to provide positive LGBTQ+ representation in the hiking world. Jeff and Moe look forward to showcasing their own hiking adventures as gay hikers, along with finding other queer outdoors folks to highlight and celebrate.
By and large, Catskill trails traverse rugged terrain, and the hiker is rewarded with superlative views and a lasting sense of accomplishment. Many of the hiking opportunities described begin in the valleys and involve moderate or difficult ascents to reach a given ridge or mountaintop. Yet those seeking solace for nature observation or recreational exercise will find a lifetime of adventure in the innumerable hollows of these mountains, without the rigors demanded to reach the higher elevations. Many of the locations discussed here offer both longer approaches to the greater trail network (with overnight possibilities) and the shorter, casual escape to the forever-wild realm that largely defines the region. The rating system reflects the span of these opportunities available at each location, while use of the trail maps will provide a heightened level of detail, including mileages between key locations, elevation change, trailside resources such as springs and lean-tos, and scenic viewpoints.