BIRDS. BEES. BUTTERFLIES.
They add color and joy to our lives, but more than that, they are an indispensable part of the food chain.
These small, hardworking, creatures give us the food we eat by pollinating home gardens as well as more than 100 farm crops that sustain 90% of the human population. Our economy, too, is therefore linked to their survival.
But the winged creatures that do so much for us are under stress from: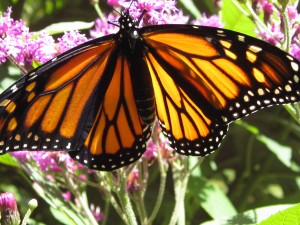 Chemicals: We have added to our environment hundreds of toxins which harm pollinator nervous systems and are suspected to contribute to Colony Collapse Disorder that has devastated the honeybee population in recent years.
Habitat loss: Replacing open fields where wildflowers grow with buildings, roads, manicured lawns and unnatural gardens has removed living space and food sources for pollinators.
To lend pollinators a hand, the Catskill Mountains Scenic Byway
has hung out the welcome sign! Click here to read about the launch of this effort on the Byway.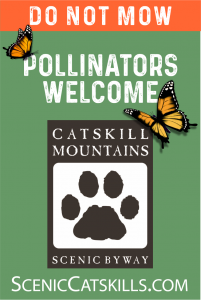 HERE'S HOW YOU CAN HELP:
Plant for the pollinators. Download this list of flowers, bushes, trees and vines for native gardening in the Catskills. Keep your yard and garden organic. Shop carefully for seeds – ask the vendor if they contain neonicotinoids, an herbicide used to treat many mass-produced vegetable and flower seeds. It is deadly to bees and butterflies.
CATSKILLS NATIVE PLANT LIST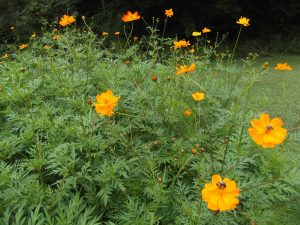 Don't mow! Allow weeds and wildflowers to grow until they finish flowering to provide much needed nectar for pollinators. Dandelions, for example, are one of the season's earliest food sources for bees. Milkweeds are an important food source and nursery for the threatened Monarch butterfly. Download a colorful poster of Milkweeds of the Northeast.
MILKWEEDS OF THE NORTHEAST
Avoid insecticides, herbicides and chemical fertilizers. Most herbicides contain glyphosate, which is harmful to butterflies, bees, and other pollinators. It is also indicated as a carcinogen for humans. The Woodstock Pollinator Pathway website has helpful information about the use of insecticides and their impact on pollinators.
PESTICIDE FREE ALTERNATIVES
Become a citizen scientist. Learn about invasive plants and insects that are altering our eco-system. You might want to sign on as a spotter with the Catskill Regional Invasive Species Partnership.
Be inspired. Visit Maralene Manos-Jones' Spirit of Butterflies Website to see how she has been lobbying, educating and actively working to save the Monarch butterfly in the Catskills, the Hudson Valley and in Mexico. About Maraleen Manos-Jones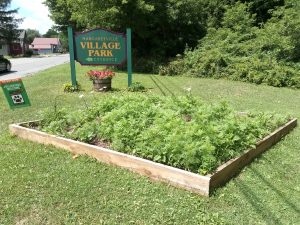 Be aware of public initiatives to help pollinators. The NYS Department of Transportation is considering guidelines for NYS Byways that would adjust mowing schedules and improve pollinator access to flowering plants. The NYC Department of Environmental Protection has revised mowing protocols on city lands in the NYC Watershed to as much as possible avoid cutting weeds and wildflowers before they flower, and to preserve milkweed, which Monarchs in particular rely on for food and habitat. Local officials, too, are urged to consider what they might do to help pollinators in their communities. Click here to view the Mayor's Monarch Pledge.
Got a few minutes? Check out Catskill Mountainkeeper's "Save the Pollinators," a short film that highlights the wonder, and the plight of pollinators in our region and what you can do to help them.
And here's an interview with Woodstock NY Pollinator Pathway's Georgia Asher:
---
Garden Stories
Look for these pollinator-friendly gardens
on the Catskill Mountain Scenic Byway
and watch for others as they develop!
Andes
Dirty Girl Farm, Rte 28
Andes Library, Main St. (Rte 28)Margaretville
Village Welcome sign, Rte 30 (upper Main St)
Bridge St., across from Freshtown
Fairview Public Library, Walnut St.
Open Eye Theater, Rte 30 (upper Main St.)Middletown
Catskill Mtn. Recreation Center (under development)
Old Stone School (under development)
Fleischmanns
Depot Street and Wagner Ave.
Village parkOlive
Olive Library, Rte 28A
Door Jamb, Rte 28
Brunel Sculpture Garden, Boiceville, Rte 28
Bread Alone, Boiceville, Rte. 28
Argos Animal Hospital, BoicevilleShandaken
Pine Hill Community Center (in progress)
Pine Hill welcome sign
---
Many businesses, organizations and individuals have supported the Scenic Byway Pollinator Project.
Thanks go to:
Margaretville Rotary Club
Margaretville Telephone Co.
Margaretville Village Garden Fund
Freshtown Market
Picnic
Open Eye Theater
Fleischmanns First