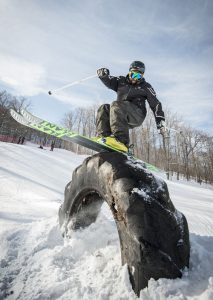 Enjoy your winter at Belleayre.  We have 50 trails, parks and glades, a vertical drop of 1,404 feet, 8 lifts and 4 lodges.  Whether you are a beginner or an expert we have something for you.  From easy green runs to the bumps, glades and parks on more expert terrain, you will find something to enjoy. The mountain is located off of State Route 28 in Highmount, NY, just hours from New York City.
Belleayre offers skiing, snowboarding and special winter events including races, torchlight parades and many more opportunities for fun in the snow. When the snow guns are shut off for the season, you can swim and picnic at Belleayre Beach, hike or ride your mountain bike along the trails or climb the mountain the easy way – on the Catskill Thunder Scenic Gondola Ride for breathtaking views of the Catskill Forest Preserve from the summit of Belleayre Mountain.Call 845-254-6129 for reservations (weekends only).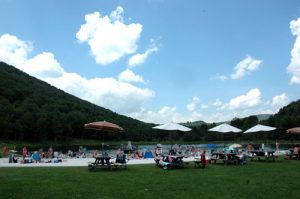 The Belleayre Beach is your place for swimming, boating and summer fun.  The beach at Pine Hill Lake is a place for the whole family.  We offer swimming, picnicking, horseshoe pits, volleyball, basketball, boat rentals (pedal boats, kayaks and row boats), stand on top paddle board rentals, fishing, hiking and great relaxation.  The beach is open Memorial Day Weekend through Labor Day Weekend.
Take a ride to the summit of Belleayre for breathtaking views of the Catskill Mountains.  Once you reach the top, you can take a walk along the summit, have a picnic lunch, or just enjoy the peace and quiet.
The Belleayre Skyride will run midweek for Groups only from June 15 through August 28.  Call 845-254-6116 for more information .
Other dates the sky ride will be open: Columbus Day Weekend on October 8 & 9, 2016, From 10:00 am to 5:00 pm.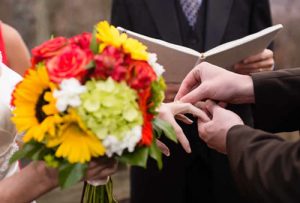 Whether you are an experienced meeting professional or an excited bride-to-be, our coordinator will provide personal service from start to finish, helping you plan an outstanding event for you and your guests. Join us for an endurance race, mud run, beach parties and more each summer!
Belleayre Mountain
PO Box 313, 181 Galli Curci Road, Highmount, NY 12441
800.942.6904 | 845.254.5600 | www.belleayre.com | belleayre@belleayre.com