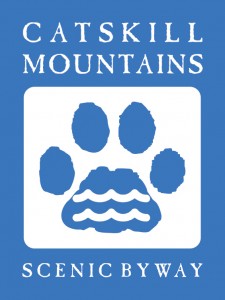 From adrenaline-pumping tubing on the Esopus Creek to a quiet day of fishing in a tucked away spot, there is really water everywhere along the Catskill Mountains Scenic Byway. In all four Byway towns you may find a place to enjoy the water.
By hovering over any of the markers on the map below you will learn about many of the water-based locations that help define the character of the byway. You should also know that there are many other resources that provide detailed and complementary information about points of access for varying kinds of water related activities. We offer two:
Ulster County Rec Connect is a web-based interactive map that comprehensively details the recreation sites throughout Ulster County, including smaller fishing access points.
The Enhanced Recreational Access for the Upper East Branch Delaware River Watershed is both an inventory of and a plan for water-based recreational access points for the western (Delaware County) portion of the byway. This map image identifies many smaller, existing access points; whereas the project homepage  is the central base for detailed information about the project.
As with all types of outdoor pursuits, those undertaking activities related to water based recreation should understand and possess the necessary skills for a given activity, have the right equipment, and be fully aware of the rules that apply. Such rules may include permits to engage in the activity or permission to use the property.
Many choice fishing locations are on New York City-owned lands, and an Access Permit (along with a NYS fishing license) is required to get to them. Permits are free and can be obtained easily here , or at many town halls, sports shops and NYC DEP offices, as well as at the Catskill Watershed Corp. in Margaretville. Access permits are also needed to paddle the Pepacton Reservoir, which is just off the Byway in the Town of Andes.
The NYC DEP has also produced an interactive digital map which provides information on City-owned properties that are open for recreation. Visit the website to use the map, which also shows New York State lands and other accessible areas.
For more information on the waterways that criss-cross the Byway Region, visit www.catskillstreams.org.
Below is a list of a few businesses on the Byway that may help you in planning your adventure on our waters
TJFarm Market Cafe/Pepacton Bait & Tackle

43021 Route 28
Arkville, New York 12406
Map It
Get all of your supplies for a great outdoor experience.
Farm Market selling baked goods, local pork sausage, chops, roasts, bacon and farm fresh eggs.
Breakfast while you wait to rent a boat to go paddling on the Pepacton Reservoir. Fishing supplies and live bait shop.
Seasonal produce, holiday trees and wreathes.
Open April to end of December
Live Bait: sowbellies, shiners, worms
Farm Fresh Eggs for Breakfast and Pack a Lunch to take.