As a part of Headwaters History Days, on Saturday June 9, 2018, the Hubbell Family Farm provided a demonstration of their 1870s era sawmill. Although the sawmill is not open on a regular basis we highly suggest seeing it in action when you have the chance (such as this yearly event)!
This sawmill was originally designed to be powered via steam. For the past century or so, however, Hubbell's sawmill has been powered by the same single-piston water-jacket-cooled gas engine. This is the same engine which provides the horsepower that drives their locally-famous cider mill (which we may spotlight in a future post). Power is delivered to the saw blade via leather belts that are present throughout the structure.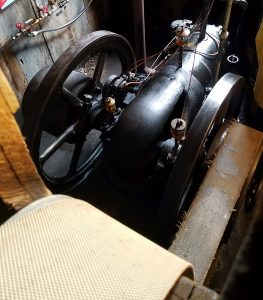 The entire sawmill assembly could be broken-down, placed on a couple of wagons, and transported to building sites. Most period mills required running water for their power. However, Hubbell's steam-powered sawmill did not share this limitation and would have been much more practical in remote areas of the Catskills.
For those of you who couldn't join us, please enjoy the accompanying video clip of the experience and try to make it next time! For more information about Hubbell Family Farm you can visit their Facebook page: https://www.facebook.com/HubbellFarm/