Winter adventurers will delight in the innumerable snowshoeing opportunities to explore in the Catskill Forest Preserve. Lesser known perhaps are the different cross country ski spots along the byway. And of course, the outdoor enthusiast will revel in the prospect of partaking in both activities and staying overnight.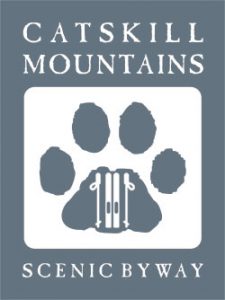 Frost Valley YMCA, located about 14 miles up the Slide Mountain Road from Big Indian, has a system of cross-country ski trails, and is open on weekends. The trails are groomed with a snowmobile and mix flatter, open routes in the valley with more challenging wooded loops on the surrounding mountainsides. Rentals are also available and are not included in the day-use fee.
Rochester Hollow, located just west of Big Indian, is another cross country ski destination along the byway. The gradual incline along the first portion of this trail makes for some easy cruising with views of the stream for much of the way. As the terrain pitches upward, the challenge increases, yet the full ascent is quite doable. Once at the Burroughs' monument, the trail returns to an easier gradient and continues to the lean-to. The return trip is a rewarding downhill glide, although you'll want to make sure you don't get going to quickly and be on the lookout for others. This trail is not groomed; however, once a ski trail is broken it is generally respected by other users, as there is adequate room along this old road.
A bit further west on the byway, Belleayre Mountain the popular downhill ski venue, also includes more than five miles of cross country ski trails. These un-groomed trails are free to use and are open during regular hours of operation, natural snow amounts allowing.
Continuing west into the Margaretville-Arkville area, the Kelly Hollow Trail, located in the nearby Millbrook Valley, is a designated cross country ski trail. A loop trail, the left side (eastern section) follows an old road (after an initial stream crossing) that gradually ascends into the head of the valley where it crosses the stream and heads west toward the lean-to. By contrast, the western side of the loop and the inner connecting trail, are characterized by more abrupt elevation changes and turns, and therefore require more technical skiing skills. Adequate snow depth is certainly a factor in skiing this trail. Of course this peaceful, secluded trail can also be snowshoed or hiked.
If you need to rent snowshoes, the Storehouse in Phoenicia is ideally situated and equipped to support your adventure. If you're considering dining and staying overnight, you can visit the Belleayre Mountain Lodging and Tourism website in addition to information found on this website.