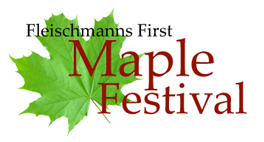 Coming End of March 2019
Fleischmanns First Maple Festival and 5K Sap Run in Village of Fleischmanns – Sponsored by Fleischmanns First a community organization missioned to promote year-round cultural and economic development in the Village of Fleischmanns.
The Annual Maple Festival, is held each year to bring awareness to the community at large and to celebrate the importance of Maple sugaring as a past and current economic activity. In the Fleischmanns area, we have identified families who have been engaged in maple sugaring for several generations. Sharing these families histories through farm visits, historical presentations, a maple bake-off and a new Maple themed arts exhibit. Children will have fun with arts and crafts at the Skene Memorial Library where farm and maple syrup equipment will be on display. A trip by horse drawn wagon will take visitors to a nearby farm to watch how the sap is boiled into syrup.
The Community Church will hold its Pancake Breakfast on Saturday and a 5K Sap Run/Walk will take place on Sunday morning.
Additional information: fleischmannsny.com or on facebook